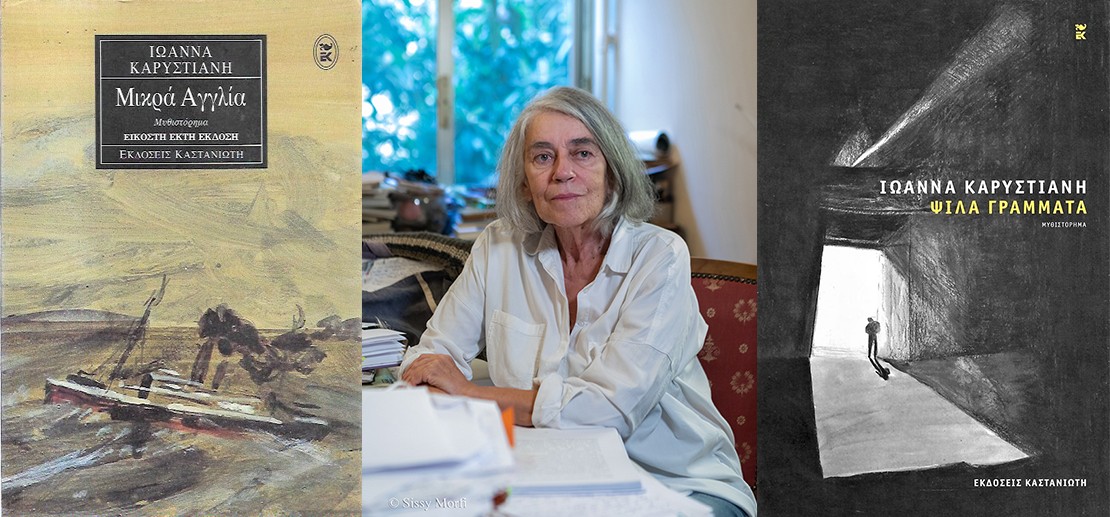 On Sunday 7 May 2023, at 19.00, we meet Ioanna Karystiani and discuss her novels "Little England" and "Few Letters", published by Kastaniotis.
A few words about the author:
Ioanna Karystiani was born on September 8, 1952 in Chania, Crete, to parents from Asia Minor. She studied law. She was born in Greece on September 8, 1982, from Greece, where she was born in Athens, Greece. She worked for the newspaper "Rizospastis", the magazines "Tettarto", "Ena", "Icons", and in foreign newspapers. She first appeared in literature in 1994, with the collection of short stories "Mrs Kataki". This was followed by the novel "Little England", which was awarded the State Novel Prize in 1998, and was nominated for the European Prize for Literature and the Balkanika Literary Prize. Her next novel, "Suit in the Soil", was awarded the Novel Prize of the magazine "Read" in 2001. She is married to the film director Pantelis Voulgaris and is the mother of the directors Alexandros and Constantina Voulgaris.
A few words about the books:
Little England
Little England, Little England. The space in between is occupied by the giant microcosm of the people of Andros, with their hatreds and unspoken passions. At the heart of the story, two sisters who love the same man and claim him to the end. The eldest daughter, Orsa, is in love with him, but is forced by her parents to marry a rich shipowner. The youngest, Mosha, independent and rebellious, marries her sister's lover when he becomes a shipowner. The two couples live in the same house, with a wooden ceiling separating them, until the truth rushes in like a wave and sweeps everything away. Karystiani's novel was written by her and was successfully adapted for the cinema, directed by Pantelis Voulgaris.
Dripping Letters
The author focuses her attention on everyday stories of everyday people. The central character is Michalis Tsioulis, an aircraft engineer who hesitates to spread his wings and fly. Colorless but human, without talents and special weight, he tries to go unnoticed. He looks like "still life," as one of his short-lived relationships before she leaves him says. Immersed in an imaginary as well as unrequited love, he refuses to go with the current of the times, full of slogans and cries. The Polytechnic, the post-communist revolution, the rise of PASOK to power, the twenty-first century, a changing Greece, and he remains overwhelmingly the same. The truth is in the fine print of the end, in all the trivial little things that are never emphasized.