December 20

-

December 23
HERE IN LILLIPUT – THE SONGS.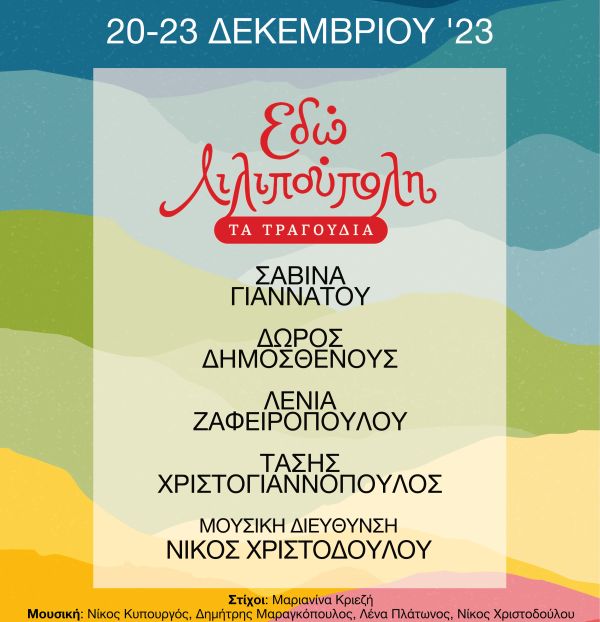 Organized by: the THESSALONIKI CONCERT HALL – CRICOS PRODUCTIONS
This is Lillipopolis: The legendary radio series that was associated with the era of Manos Hadjidakis in ERT's Third Program (1976-1980) and has grown generations and generations to this day, comes back to life and drags us into the world of beloved songs, with music by Nikos Kypourgos, Dimitris Marangopoulos, Lena Platonos, Nikos Christodoulou and lyrics by Mariannina Kriezi.
A fairytale performance full of dreams and memories, under the musical direction of Nikos Christodoulou, which will be brought to life through the performances of Savina Giannatou, Doros Dimosthenous, Lenia Zafeiropoulou and Tasis Christoyannopoulos.
Nikos Kypourgos Music
Dimitris Maragopoulos Music
Lena Platonos Music
Nikos Christodoulou Music
Mariannina Kriezi Lyrics
Regina Kapetanaki Creator
Performing:
Savina Giannatou
Doros Demosthenous
Lenia Zafeiropoulou
Leniya Zena Efriopoulou Leniya Efriopoulos
Choir of the Church of Saints Cyril & Methodius in Thessaloniki
Maria Emma Meligopoulou Choir Teaching
Elpida Tsami Choir Teaching
JoveNata Ensemble
Nikos Christodoulou Conducting Orchestra
School performances:
TE 20 December – Time 9.30 & 12.00
9.30 a.m. & 12.00 p.m.
Tel. 2310 895 882, akokkinidou@tch.gr.
School performances: 10€.
*22 December 2023 at 19:00 (Music Friends Hall M1),
23 December 2023 at 12:00 (MUSIC FANS' HALL M1),
23 December 2023 at 19:00 (Music Friends Hall M1)
MOYSA: MUSICAL & BROADWAY
Organized by.
Some of the most famous songs from beloved musicals of yesterday and today, as well as iconic songs from the Broadway stage, come to life on the stage of the Thessaloniki Concert Hall in the Christmas concert of MOYSA – Youth Symphony Orchestra of the Thessaloniki Concert Hall.
From Andrew Lloyd Weber to Frank Sinatra and Barbara Streisand, the audience is invited to participate in the magic of the beloved music of the greatest stars of musical theatre, in a concert full of glitter and festive spirit.
Gloria Enchill (Italy) Major Soprano
Roberto Tarsi (Italy) Vocals
Andrei Apreotesei (Romania) Tenor
Denia Leventi (Greece) Soprano
MOYSA – Thessaloniki Concert Hall Youth Symphony Orchestra
Daniel Jinga Conductor
TICKET PRICES 20€, 15€, 10€ (reduced)
*28 December 2023 at 20:30 (Music Friends Hall M1).