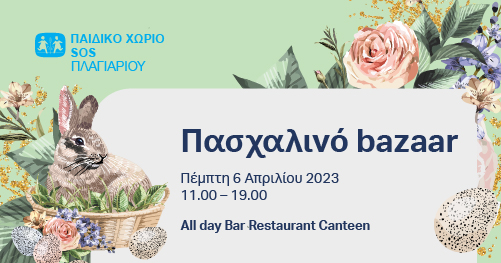 SOS Children's Village in Plagiari Easter Bazaar
Easter is approaching and with it, its true meaning, the power of love and giving!
The Support Group of the SOS Children's Village of Plagiari,
on Thursday, April 6, 11.00 – 19.00,
invites you to the Canteen Bar Restaurant to make the
Easter shopping, choose candles, gifts, sweets
and send your own message of love and support to children!
Wish a Happy Resurrection to your godchild
or to your loved ones, choosing from a variety of
candles for all ages
and help the SOS Children's Villages of Greece
to meet the needs of the children in their care.
Information: Epi-Direct, Lida Papadopoulou T. 2310 227 225
SOS Children's Village in Plagiari T. 2310 226 644