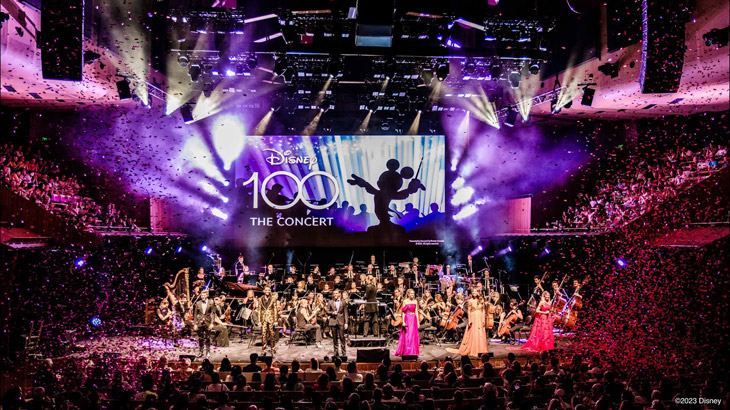 November 5 @ 16:00

-

19:30
Disney 100: the concert! at Thessaloniki Concert Hall – Anniversary Concert
Disney is celebrating its 100th anniversary and the Thessaloniki Concert Hall is hosting the Disney 100: the concert, where we will enjoy clips from favourite Disney films on a giant screen and hear the biggest stars of the West End live on stage.
Accompanied by a 56-piece orchestra, together we will enjoy a unique audiovisual experience
Days & Hours
Sun 5/11
16:00
Sun 5/11
19:30
More Information
Disney Celebrates 100 Years – Thessaloniki Concert Hall
100 Years of Magic with the Songs We All Love!
With the Biggest Stars of the West End Live on Stage.
Accompanied by a 56-piece Orchestra.
And with our Magical Heroes from the Disney Movies on a giant screen!
A brand new concert created especially for Disney's 100th anniversary celebration and touring the world!
Starring the stars of the West End:
Ben Forster (The Phantom of the Opera),
Louise Dearman (Wicked),
Rachel John (Hamilton),
Luke Bayer (Everybody's Talking About Jamie),
Andrian Hansel (Guys and Dolls) and
Nadia Boule in a dual role, presenting and singing.
At the Thessaloniki Concert Hall we will see clips from Disney's most beloved films on a giant screen, while at the same time the classic musical themes will be brought to life on stage by an orchestra of 56 musicians and the enchanting voices of the West End singers, creating a unique audiovisual experience.
We're going to listen to songs from the movies we grew up with. The movies that taught us to dream…
Like Alladin, Lion King, Little Mermaid, Frozen, Beauty and the Beast, Mary Poppins, Encanto, and many more, as well as other favorite songs from the world of Pixar, Star Wars, and Marvel.
"Dreams are a wish the heart makes".
That's what Disney taught us in years gone by.
Since its founding in 1923, the Walt Disney Company has incorporated fantasy, magic and big emotions into an almost experiential experience. We grew up with its movies. We laughed, we were moved, but most importantly, we learned a lot about life.
To believe in ourselves.
To face our fears.
To follow our dreams, no matter what the cost…
Whether under the sea, in the depths of the jungle, or just in a child's room.
The songs of these stories have touched hearts and moved people of all ages.
All it takes is a magic umbrella to take us back to the dream…
The Disney 100: the concert tour, which will take place at the Thessaloniki Concert Hall in November, is part of the official celebrations for Disney's 100th anniversary.
100 years of adventure, 100 years of emotions, and 100 years of Disney magic!
Join us on this magical journey!
Performers:
Directed by Dimitris Malissovas
Demosthenes Fotiadis
Ben Forster – Louise Dearman – Rachel John – Luke Bayer – Andrian Hansel and Nadia Boule.
Presentation.
Ensemble: Panos Patagiannis – Maria Papadopoulou – Danae Tsironi – Rafael Kritoulis