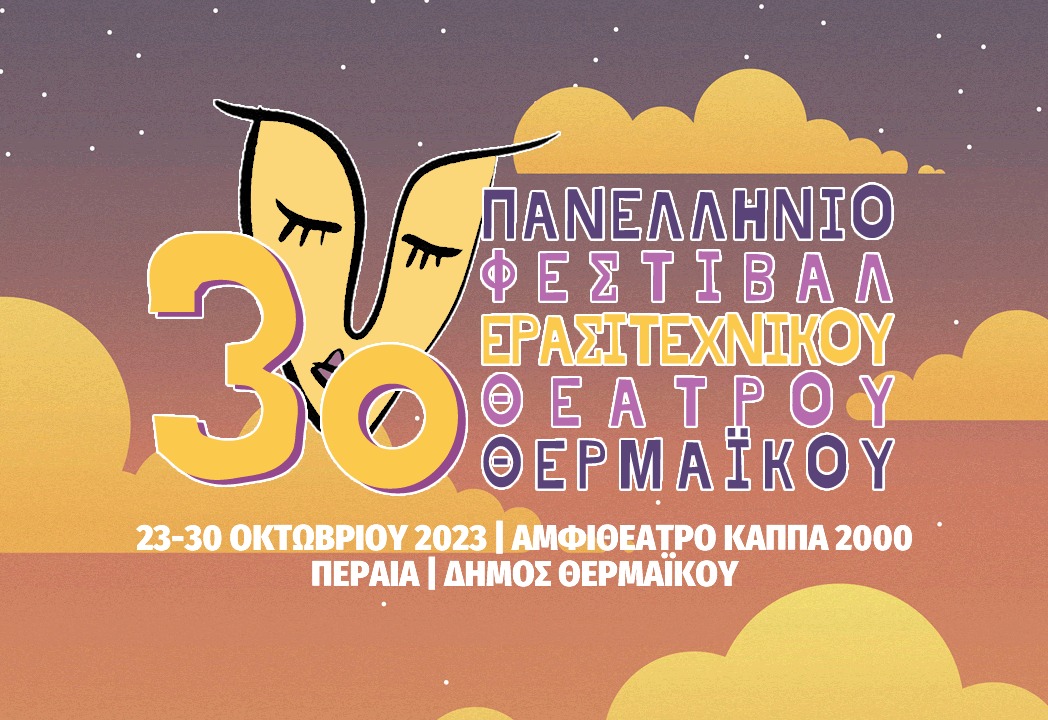 October 23 @ 20:00

-

October 30 @ 22:00
The 3rd Panhellenic Amateur Theatre Festival of Thermaikos is here!
With the love for the theatre as a compass, the theatre group "Fyrdyn Migdin" and the PPACC of Thermaikos, are pleased to invite us to the 3rd Amateur Theatre Festival of Thermaikos, the last week of October.
A co-organization of the Theatre Group "Firdin Migdin" of the Association of Eastern Thrace Refugees of Agia Triada, and the Cultural Center of the Region of Central Macedonia, with the support of the Thessaloniki Tourism Organization.
The most festive period of the year for amateur theatre in Thessaloniki has arrived. The 3rd Panhellenic Amateur Theatre Festival of Thermaikos is a fact. From Monday 23 to Monday 30 October 2023, every night at the Kappa 2000 Amphitheatre in Perea, we will have the opportunity to enjoy some of the best theatre groups in the country, with high quality performances…for every taste.
Distomo, Thessaloniki, Ptolemaida, Athens, Filiatra and Egaleo will shine on the stage of Kappa 2000, claiming the warm applause of the audience and the coveted prizes of the event. The organizers invite us to fill the theatre once again and with all our strength to reward the competing teams for their effort, passion and dedication. Admission is free.
The committee will be composed of notable and beloved faces from the artistic world of Thessaloniki. Among them are Asterios Peltekis, Giorgos Konstantinidis, Antonis Karagiannis, Nelly Delli, Varvara Doumanidou and Dimitris Vassiliadis. Honoured guests were the President of the Cultural Centre of the Region of Central Macedonia Anna Myconiou and the actor Akis Sakellariou.
The programm of the performances:
MONDAY 23 OCTOBER 2023
Opening Ceremony | Theatrical Group "Fyrdin Migdin" with the play "SFAGI!" and Honorary tribute to ANNA MYKONIOU
TUESDAY 24 OCTOBER 2023
OPENING OF THE COMPETITIVE PART | Theatrical Workshop of Distomo "Theatrophrenia" with the play "The Last Night" by Dimitris Theodoros, directed by Tasos Stathas
WEDNESDAY 25 OCTOBER 2023
Theatrical Group of the Municipality of Pavlos Melas with the play "A gallows and a crepe please" by Penny Fylaktakis, directed by Theano Amiridou
THURSDAY 26 OCTOBER 2023
Theatrical Group "Little courtyard" of the Cultural Association of Ptolemaida "The Savior" with the play "The Matchmaking" by Nikolai Gogol, adapted & directed by Genoveva Vounotripidou
FRIDAY 27 OCTOBER 2023
Main Point Theatre Group with the play "Angela" by George Sevastikoglou, directed by Dimitris Kanellos
SATURDAY 28 OCTOBER 2023
Trifylian Amateur Theatre with the play "The Locadiera" by Carlo Goldoni, adapted & directed by Panos Iliopoulos
SUNDAY 29 OCTOBER 2023
Theatrical Group "Unusual Suspects" 1st Evening EPAL-2nd EK Egaleo with the play "Little Murder Stories" by Panagiotis Bratakos, directed by Alexandros Giagas | END OF THE COMPETITION PART
MONDAY 30 OCTOBER 2023
LIVE music night STRINGLESS | Honorary tribute to AKI SAKELLARIOU | AWARD AWARD