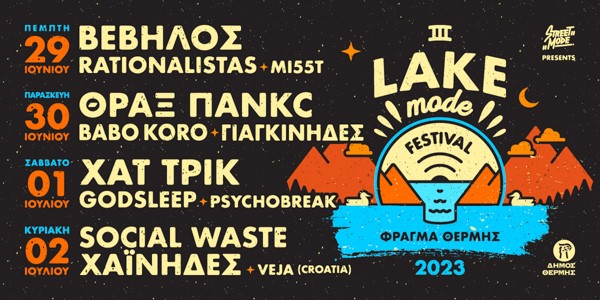 June 29 @ 20:00

-

July 2 @ 23:30
3rd Lake Mode Festival · June 29 – July 2, 2023 at Thermi Dam
Vevilos, Thrax Punkc, Hat Trick, Social Waste and many more big names at the "country" festival of Thessaloniki!
Lake Mode: ON!
Having already two very successful years under its belt, Thessaloniki's favorite outdoor festival returns to the enchanting, natural landscape of the lake of Thermi Dam. This year's Lake Mode Festival welcomes artists known for their explosive sound and exciting performances!
Get your ticket: https://cometogether.live/event/291
More specifically, the stage of the 3rd Lake Mode Festival will see Vevilos, Rationalistas and Mi55t on Thursday 29 June, Thrax Punkc, Babo Koro and Yaginides on Friday 30 June, Hat Trick, Godsleep and Psychobreak on Saturday 1 July, and Social Waste, Hainides and Croatian Veja on Sunday 2 July.
With each day's music combining a variety of musical genres and influences, Lake Mode Festival 2023 promises a highly atmospheric and immersive environment. Until then, let's recall some of the best moments from last year's event in the video below.
Highlights Video 2022: https://youtu.be/lX9x7mom3lI
TICKETS:
Online at https://cometogether.live/event/291
Hard-Copy at pre-sale locations:
– Heliotrope (14 Navarino Square)
– Diorodon (Kalamaria – Kerasountos 81)
– Brunch-Box (Thermi – 25 Kolokotroni Street, Kerala Square, Katerina Corazonis) Brunch-Box (Katerina Corazonis Square, Kerala Square) Brunch-Box (Thermi – 25 Kolokotronis Street)
– Crib 23 (23 Karoli & Demetriou 23 Thermi)
BUSES:
In addition to the urban 66 & 67 to Thermi, the organization provides the possibility of transport by private bus from and to the center of Thessaloniki (White Tower). Tickets for the buses can be found at the same link as the festival tickets at cometogether.live/event/291.
Departure time from White Tower: 18:00.
Departure time from Thermi Dam: At the end of the event.
The city buses to Thermi are 66 & 67. The 66 departs from the terminal of Nea Schweizeria (Harilaou) and the 67 from the IKEA terminal.
ALL INFORMATION:
FAQ:
INSTAGRAM:
http://www.instagram.com/lakemodefestival
FACEBOOK:
http://www.facebook.com/lakemodefestival
A Street Mode Festival event.